cGMP Protein Purification
---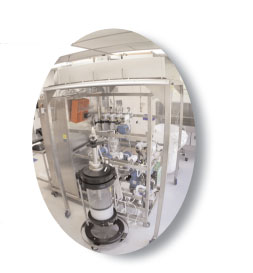 Laureate Pharma offers both purification development as well as purification at scale. Our cGMP facilities in Princeton, New Jersey, are validated, and house all the appropriate laboratories and necessary equipment for both processes. In addition, our staff conduct viral clearance validation studies at qualified off-site laboratories.
Monoclonal antibodies and recombinant proteins
Chromatography by affinity, ion exchange, hydrophobic interaction and size-exclusion methods, as well as filtration via micro, ultra, and nanopore filters.
Protein Purification System
---
Automated chromatography systems
Scale: gm to kg
Variety of chromatography resins
Validated systems, Part 11 compliant
Protein Purification Services
---
cGMP production scale purification

Aseptic processing
Closed, sanitary system, sterile buffer and collection bags,aseptic connections

Buffer preparation
QC testing of raw materials, intermediates,and bulk product
Process and viral clearance validation
Integrated process development programs
Download a Printable PDF!